Hi girlies,
I'm back with a little review of some surprising gems I have been using for quite a while now.
I came across Cien products when we sent my stepdad for moisturiser and he came back with the Cien moisturising body cream from... Lidl, of all places!
My mum and I were cautious when trying the product as we both have seriously sensitive skin but we have never looked back.
That was 3years ago!!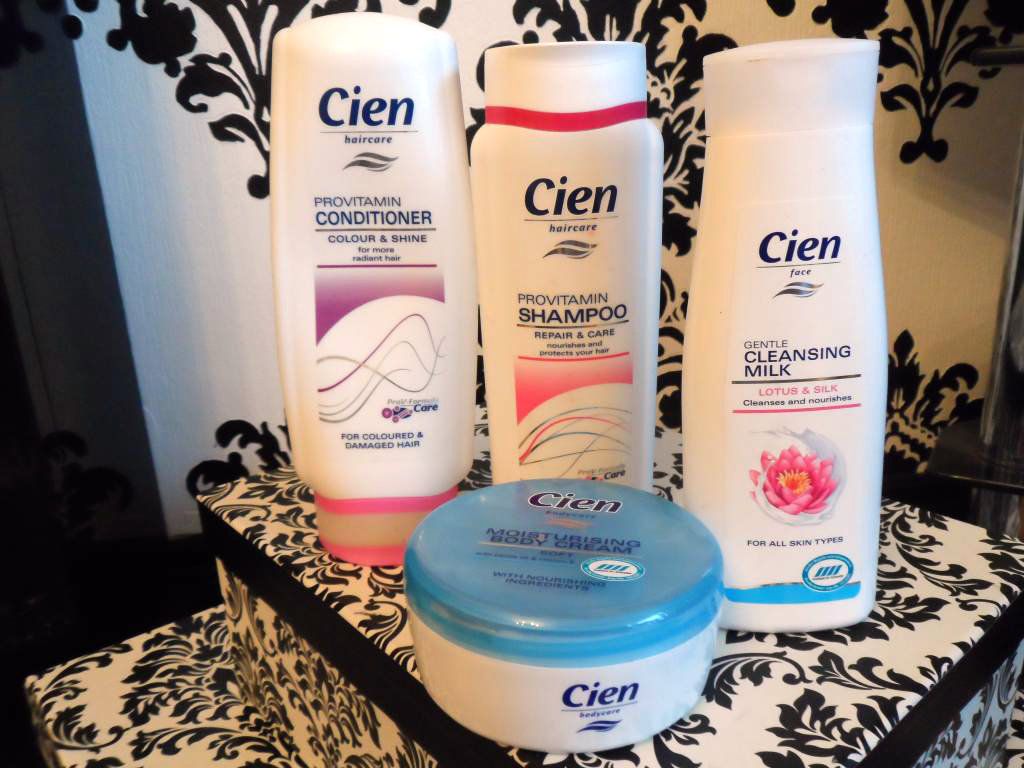 1. Cien Provitamin Conditioner for coloured and damaged hair.
2. Cien Provitamin Shampoo for dry and damaged hair.
3. Cien Gentle Cleansing Milk for all skin types
4. Cien Moisturising Body cream for soft skin.
My little Cien family!!
Moisturising Body Cream
; I am yet to find a moisturiser that beats this moisturiser. It is thick yet dries without leaving you with a sticky sensation. It is suitable for your face despite being a body cream,
yes I know, I am a dare devil using body cream on my face
.
Price; A staggering €2.50
Where to buy; Lidl
Gentle Cleansing Milk

;
This has been one of my most recent Cien buys and I absolutely love it. This cleanser smells amazing and is made with lotus and silk to give your skin a fresh, clean feeling. I just pop a bit of this onto a cotton pad after washing my face to take off stubborn make up. It is thanks to this product I realised that I have been going to bed with a full face of makeup on despite looking sparkling clean. But I assure you one dab of this and there won't be an ounce of makeup left on your face!
Price; €2
Where to buy; Lidl
Provitamin Shampoo Repair &
Care;
This shampoo while I haven't seen a major different in the crappy condition of my hair or indeed the dryness it certainly leaves my hair feeling clean for a long period of time and smells quite nice. I will continue using it to see will it improve the condition of my hair and if not I will fall back to my old relilable Pantine.
Price; €2.99
Where to buy; Lidl
Provitamin Conditioner Colour and Shine;
As many of you may know when you have red hair nothing will keep your colour in, however I do have some hints and tips coming soon ;) Yet this conditioner certainly makes my hair 10times easier to brush out then some more high end brands have. And I have noticed a shine to my hair.

Price;
€2.99
Where to buy;
€2.99
So as you can see these are possibly the cheapest skincare and haircare products available on the market and are from the unlikely source of the supermarket Lidl however they really do work wonders, especially the skincare range. I also think I may be one of the first bloggers to share the Cien range, who knows maybe everyone will be rushing to their nearest Lidl!
Have you ever tried Cien products?
Have you ever found a surprisingly good, cheap product?
Until next time girlies.. LolaRose xx